Securifor® 358
Proven performance when security and visibility is required
Securifor 358 SingleSkin has been developed and engineered for applications requiring a high degree of security and where visibility through the perimeter is essential.
Securifor 358 SingleSkin has been a proven high security solution in South Africa for twenty years. Used, and proven in a wide variety of applications this track record has meant that it has set the benchmark by which all other high security fences are measured.
The flat panel design in conjunction with the small appertures minimises any potential for climbing over the fence. By using a combination of posts, cover strips, and top and bottom rails to secure the panel in place a rigid and tamper proof system is created where the ends of the panel are not accessible.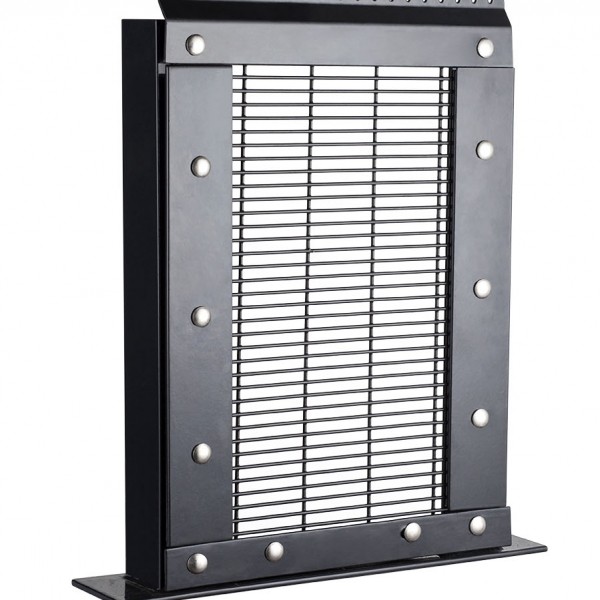 Panel Specifications
Panel width : 3048 mm
Apeture : 76.2 x 12.8 mm
Core wire diameter : 3.96 mm
After PVC coating 4.36 mm
Posts
Angle iron posts : 70 x 70 x 6 mm sectuib ir 100 x 75 x 8 mm. They are hot dipped galvanised in accordance with ISO-1461 and pre-drilled with holes for fixing panels, including (70 x 6 mm) cover plate section with pre-drilled holes for fixing. The panels are fixed using stainless steel (M8x40 mm) countersunkflushlock bolts and shear nuts
Square posts : The panels are fixed onto the front or back side of the posts by means of fixators and security bolts. The welded square tubular posts (76 x 76 x 1.6 mm) have inserts for fixing the panels with a 70×6 mm coverstrip, are PVC coated, and covered with a plastic cap.
Fixing of panels to posts
The panels are fitted to the posts via a flat bar system secured in place with tamper proof stainless steel bolts and shear off nuts.
The panels are also secured at the top and bottom using angle iron rails. The panel is secured to these rails using tamper proof stainless steel bolts and shear off nuts
Coating and Colours
The panels are made from ZincAlu coated wires. For additional aesthetics and corrosion protection the system is available PVC coated.
Colours avilable: ZincAlu, Green 6005, Anthracite 7021
Fence Height

in mm

Panels
width x heightin mm
Post length

in mm

Angle iron bottom rail
Intermediate posts
 End posts
2400
3048 x 2385
3000
2996 x 40 x 40 x 3
70 x 70 x 6
70 x 70 x 6
3000
3048 x 2985
3750
2996 x 40 x 40 x 3
70 x 70 x 6
100 x 75 x 8